---
Best Face Wash to Treat Rosacea in 2022, a Selection Guide
---
Amanda Chen / Angus Chang / PUBLISHED: NOV-26-2021
So what is the best face wash for rosacea? As professional skincare experts who design our own skincare formulas, we're addressing this exact question.
We'll skip the explanation of Rosacea since there are numerous articles talking about what Rosacea is. But instead, tackle the best skincare routines ...and then look at the pros and cons of various approved products.
Let's start with a quick takeaway answer, then we'll get into more details...
Facewash to treat rosacea is based on the right combination of cleaning agents and ingredients that treat and hydrate the skin. Some face washes add excessive fattening agents, others only cleanse lightly. Unless taking medication, select an appropriate face wash for your needs and follow a routine.
Before we start talking about the products used for Rosacea, we need to understand the cause first because the only way to ease the symptoms of Rosacea is to understand the causes.
In truth, currently, doctors and scientists still cannot confirm any major causes of Rosacea. But it's widely considered that one of many reasons is Demodex Folliculorum, also known as "face mite".
Everyone has face mites on their face. But while the density of the mites exceeds the normal amount, the mites cause skin inflammation, worsening the skin situation of Rosacea patients.
The first step in dealing with this is to see a dermatologist who can diagnose if you do indeed have this skin disease. They may then prescribe a treatment balm or oral medicine.
Ascertaining the most likely cause is important, as it enables us to prescribe a more effective remedy. So let's consider the other causes of rosacea.
Other causes of rosacea could include
Problematic skin immunization
Dysfunctional blood vessels
Mental pressure
Irritants from skincare products
UV light damage
From the above causes, we can separate them into two main categories to target treatment.
Treatment categories
Category 1-3: A doctor will diagnose and prescribe effective medications.
Category 4-5: You can treat yourself using the best face wash to treat rosacea
Unfortunately, you can't really irradicate Rosacea. However, you can control the symptoms to decrease the chance of triggering them.
Self care starts with skin care
Simple steps to ease the symptoms of Rosacea
Adjustments to lifestyle, routines, and behaviors
Use mineral-based SPF sunscreen during the day
DO NOT allow over-exposure to the sun
Address any potential digestive issues
Regarding the last point, according to the British Association of Dermatology, Rosacea patients often suffer from digestion issues. To combat this, follow these simple guidelines
YOUR SKIN IS A DIRECT REFLECTION OF YOUR GUT
5 types of food to avoid:
Spicy foods - such as chili, pepper, and hot sauces.
Dairy products - such as cheese, milk,
Sugar! - any type of processed sugar products
Hot drink - any type of hot drink
Alcohol - any alcohol based drinks such as wine, beer, hard liquor
7 foods to eat more of:
Nuts and berries
Green leafy vegetables
Whole grains such as Oats, Quinoa, Brown rice, Corn
Asparagus, and Kale
Dark color fruit and vegetable such as Sweet potato, Broccoli, Cauliflower
Salmon, and mackerel
Chia seed, and Flaxseed
Other helpful activities:
Talk to friends and family to gain support
Visit a therapist regarding pressure and stress
Workout but AVOID intense exercise
Stay in a well-ventilated room
Follow a professionally approved skincare routine
Rosacea skincare routine: choosing skincare products
1. To gain the most effective results, it's important to choose the best face wash to treat rosacea, This includes simplifying your daily routine to four easy steps as outlined below:

2. For each of these steps, limit the product to the best product to treat rosacea for the different stages of the routine.
3. When it comes to choosing the best face wash to treat rosacea, use professional guidance for product selection.
As professionals in this industry, we have some overall recommendations for each of these steps.
Best face wash to treat rosacea - product selection
The purpose of a face wash to treat rosacea is to clean your face thoroughly. Follow the general rules below:
For Rosacea skin, it requires a very gentle cleanser that uses amino acid surfactant, bipolar surfactant, or non-ionic surfactant as a cleaning agent that would do the job but isn't overly harsh.
Cleansing agents must have at least a 300 molecular weight. The greater the molecular weight, the more effective the treatment.
It is better to have a copolymer that has a molecular weight greater than 1,000,000 to prevent surfactants from penetrating into the skin
Other functional ingredients, like hydrating, whitening, brightening, anti-aging function ingredients, will not remain on the top of your face after rinsing off with water. Functional ingredients are not necessary and may potentially cause allergic reactions.
Here are the factors to consider when selecting the best face wash to treat rosacea. I've added safety, cleaning, and my professional recommendation for each product mentioned. Below that, I've expanded on the pros and cons in more detail.
Best face wash to treat rosacea - factors and ratings
product name
safety (OUT OF 5 STARS)
cleaness (OUT OF 5 STARS)
recommend (OUT OF 5 ST

Paula's choice

Defense Hydrating Gel-To-Cream Cleanser

The Inkey list

Oat Cleansing Balm

Krave beauty

Matcha Hemp Hydrating Cleanser

Glad skin

Face Wash for Rosacea-prone skin

Cerave

Hydrating Facial Cleanser
Best face wash to treat rosacea - Pros and Cons
To follow on from the above recommendations, I've listed the pros and cons of each to provide some further detail and information.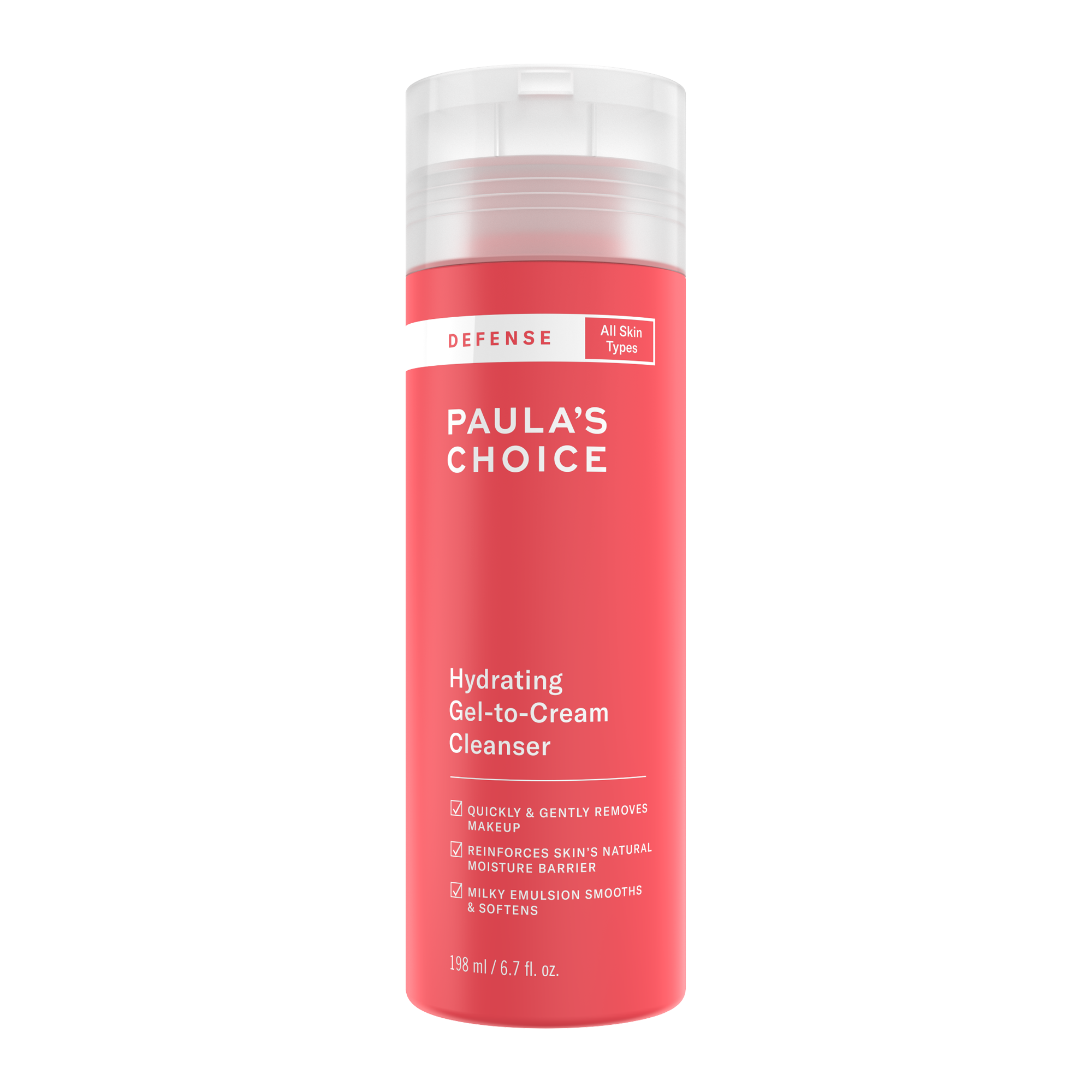 Paula's choice - Defense Hydrating Gel-To-Cream Cleanser
Pros:
Paula's choice cleanser has 3 kinds of cleaning agents. These are amino acid, bipolar, and non-ionic surfactants. These surfactants do a very good job at cleaning the skin without removing too much sebum from your skin, and without disrupting the skin barrier.
Cons:
This cleanser adds excess amino acids such as Glycine, Alanine, Serine, Valine, and Isoleucine. The amino acid may cause some people an allergic reaction. Amino acid is one of the proteins that could irritate the skin in some recipients, like allergens, even though amino acid is a positive hydrating agent.
It doesn't include copolymers to prevent surfactants from penetrating the skin.
The Inkey list - Oat Cleansing Balm
Pros:
Your skin will feel very soft and smooth, but not overly tight after washing. This is due to the included superfatting agents.
Cons:
Contains excessive super-fatting agents, like Sweet Almond Oil, Cetearyl Alcohol, PEG-60 Almond Glycerides, and texture modifier, such as Silica, and oat flour. These ingredients are unnecessary and are a burden for Rosacea skin – even though they could moisturize the skin.


For cleaning purposes, this cleaning balm only contains 2 cleaning agents. These are PEG-6 Caprylic/Capric Glycerides, and Sorbitan Stearate. So, the balm is capable of removing light makeup but would not remove heavy makeup, like eye/lips makeup, dead corneum, unwanted sebum. For Papulopustular Rosacea, those who have pus or rashes, this cleanser could worsen the situation and so would not be recommended.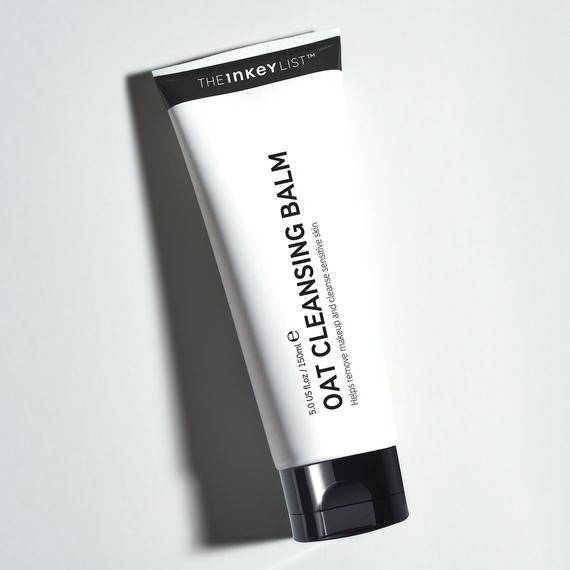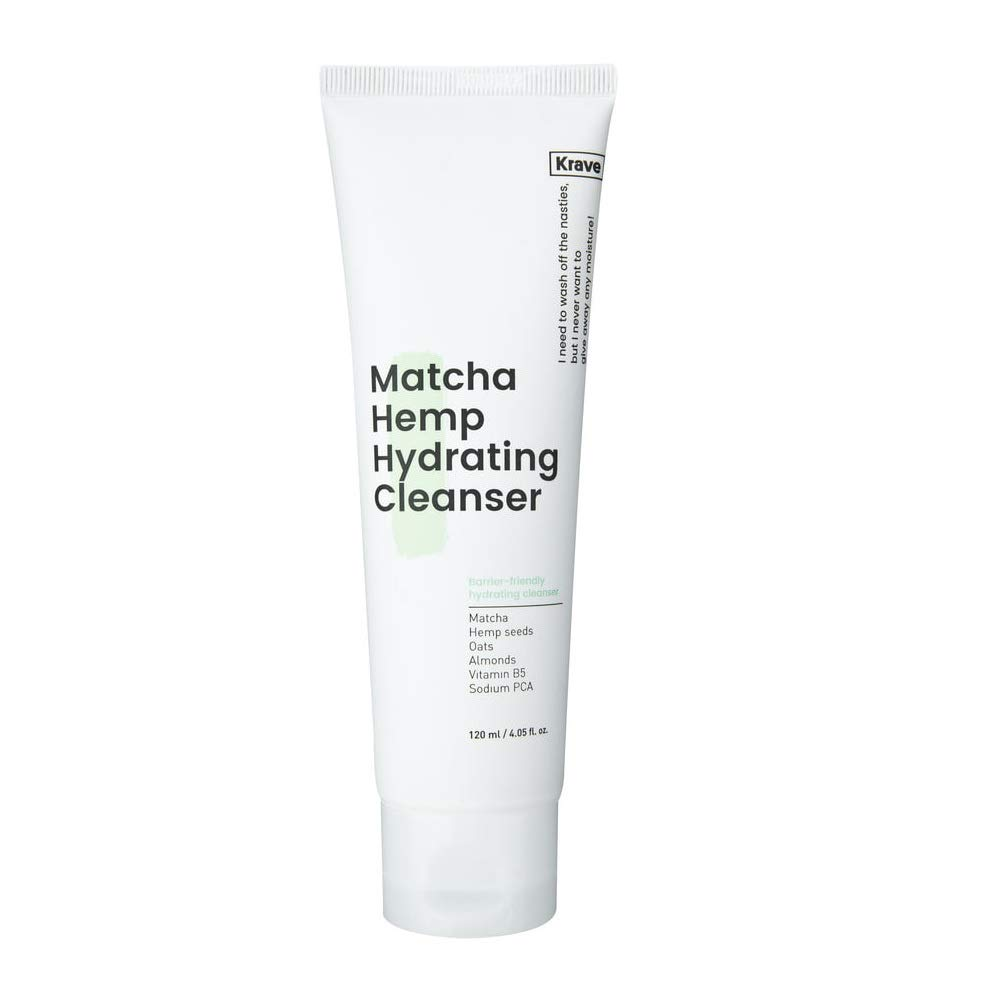 Krave Beauty - Matcha Hemp Hydrating Cleanser
Pros:
This cleanser contains 4 gentle cleansing agents, a balanced combination of different kinds of surfactants to clean the face gently
Cons:
It has 9 small molecular particle-based humectants that remain on the top of the skin. This attracts hydration from the environment. However, after rinsing off, you won't feel the benefit from these humectants.
Glad Skin - Face Wash for Rosacea-prone skin
Pros:
This face wash is a very simple formula product that has only one cleaning agent, Sucrose Palmitate derived from sugar. Therefore, this cleanser has a minimal chance of irritating the skin, I would say less than 1%.
Only one superfatting agent and one humectant formula is friendly to the skin and won't become a burden.
Cons:
Since there is only one cleaning agent, this cleanser doesn't have sufficient ability to remove sunscreen or makeup products. If you wear SPF foundation/sunscreen that is water-resistant or oil resistant, be sure to use a gentle makeup remover before using this cleanser.
It has not been proven to be adequate in cleaning the dead corneum for those with Papulopustular Rosacea who have pus or rashes.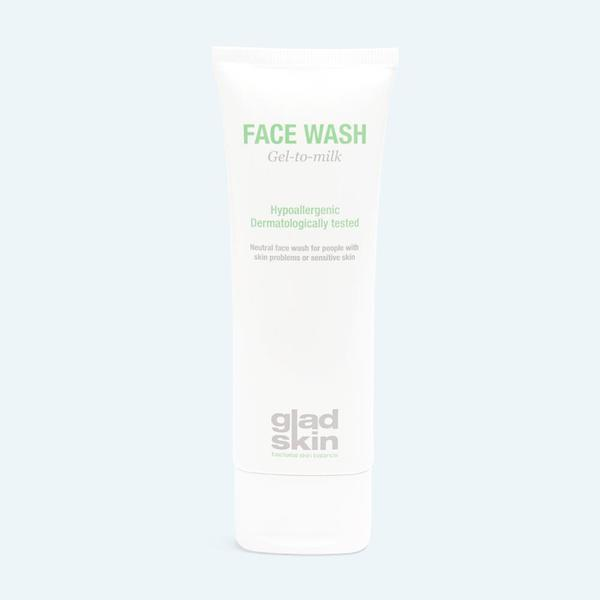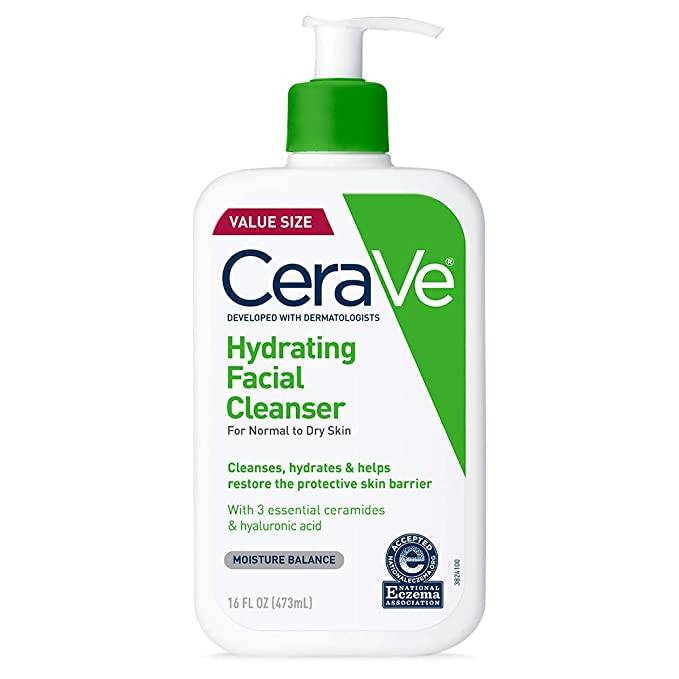 Cerave - Hydrating Facial Cleanser
Pros:
This cleanser uses 2 bipolar surfactants and 1 non-ionic surfactant, a gentle cleansing agent, which is sufficient for Rosacea skin.
Sodium Hyaluronate acts not as a humectant but as a polymer to prevent surfactants from sinking into the skin.
This cleanser has good humectants, ceramides, and Cholesterol, that can replenish and strengthen the lipids between the skin corneum.
Cons:
Because it has 4 synthetic fatty alcohol ingredients as superfatting agents, it creates a fake smooth feeling which is unnecessary and could be a burden for Rosacea skin.
Best face wash to treat rosacea - Conclusion:
So far, I haven't found a 5-star cleanser for Rosacea skin. All of them have a mix of pros and cons. But if I had to choose, I would choose Cerave hydrating facial cleanser for Rosacea skin. As my second option, I would opt for Paula's choice – provided my skin does not have any prior protein allergy.
My ideal cleanser...
For Rosacea skin, all surfactants should have greater than 1500 as their molecular weight. Part of the ingredients should be non-ionic surfactants that can clean sweat and dead skin.
The remainder should be dendritic shapes that can clean dirt pores deeply – while copolymers can prevent the surfactants from penetrating into the skin. So, the cleanser is able to clean without irritating.
Also, within this "ideal cleanser", there should be zero oil or "superfatting" agents that create a smooth/silky feeling to the skin. This only serves to fool you ...and to make you think your skin is hydrated. We are optimistic that we will have this ideal cleanser in 2022 or beyond.